Are you planning a challenging bioenergy project with ambitious goals? Looking for a service-oriented company with proven record in providing high-quality support and specialised know-how in the field of biogas and waste to energy concepts? Searching for hard-to-find specialised know-how? Our services cover everything you need to get your project underway and see it through to a successful conclusion.
Your professional partner for bioenergy projects
To ensure security of supply, sustainability and competitiveness of the growing energy market, the fuels of the future will be green alternatives, such as biomass and biogas, offering untapped potential and growth opportunities. The use of biomass is becoming steadily more important especially for a number of different energy applications.
We offer an innovative service concept to assist you in the realization of forward-looking bioenergy projects. We develop strategies for the production of renewable energies, energy savings, waste valorisation, and biomass master plans for all relevant sectors:
Agricultural sector: liquid and solid manure, …
Public sector: organic municipal solid waste, sewage sludge, …
Industrial sector: lignified waste, slaughterhouse waste, …
Waste to energy; waste to resources
We support our clients among others on the following issues:
Review of the current situation (Potential analysis)
Technical and economic feasibility studies
Concept studies for the concrete supply of biomass energy to objects
Decision-making process for a bioenergy concept
Development of energy efficient concepts for biogas plants
Preparation of thermal energy supply contracts together with the parties involved
Basic and detailed engineering
Process optimisation
Financing or development of sustainable contracting approaches (energy supply contracts) as an alternative to self-financing
Planning & Design
We help you develop the initial concept, analyse the baseline and evaluate future needs so you can fully cope your bioenergy project. We draw up the technical roadmap of your project, identifying the optimal solution for you and your particular circumstances. Covering the wide reach of biogas generation, we design plants ranging from small decentralized farm-scale biogas plants up to sophisticated large scale plants with district heating valorising industrial biowaste, food waste, organic municipal solid waste or woody biomass into renewable energy.
The following services in terms of project planning and design are delivered with the goal to develop an innovative, energy efficient and sustainable concept integrating different technologies:
1. Project Evaluation / Pre-planning
Material flow management to identify the locally available quantities and qualities of biomass
Master plans and sector studies
Technical and economic feasibility studies
Mass & energy balances
Environmental impact assessment
2. Project Planning
Draft planning
Planning of fuel/raw material logistics
Authorisation procedures
Preparation and evaluation of tenders
Preparation of fuel supply contracts or substrate purchase agreements
Financing & Fundraising
Preparation of the contract award
Participation in the contract award
Assistance
Planning of the implementation phase
3. Detailed engineering
Preliminary Design – Basic engineering
Cost Planning – Financial engineering
Final Design – Detailed engineering
Design Review
Project Implementation
We guarantee the efficient and timely implementation of your project, and make sure the final result complies with your specifications.
During the project implementation we support you with:
Project management
Supervision of the construction
Object support and documentation
Commissioning
Start-up of the process
Process optimisation
Operation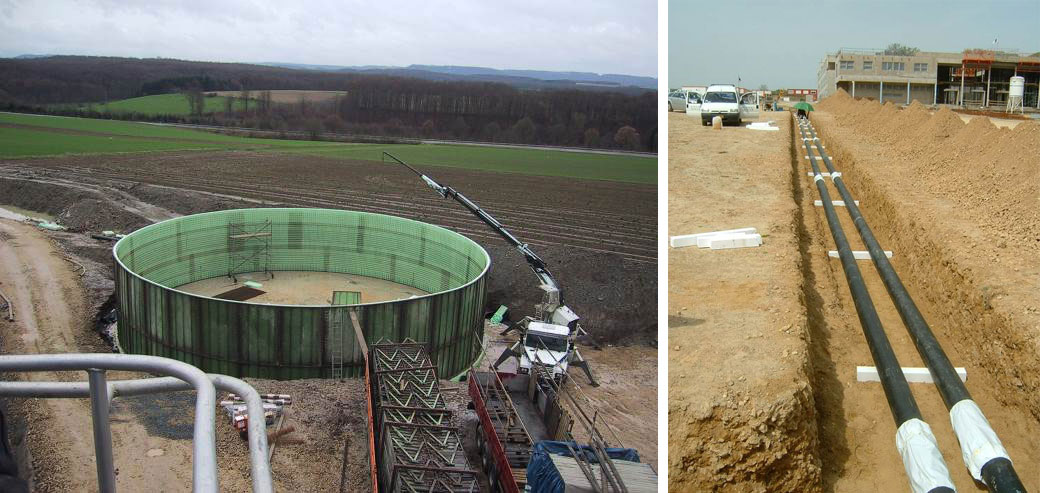 Ref: Project Redange - Construction phase - Biogas plant with district heating
Over the lifetime of the project
Once your infrastructure is set up, your facility is operating or your programme is launched, L.E.E. SÀRL can provide the qualified long and short term support to improve your project's outcome. Our teams combine technical knowledge, local experience and a dedication to helping communities to move towards a circular economy thinking and sustainable development.
For running or completed projects
We can set up and analyse indicators to assess whether resources are sufficient and well-managed, initial objectives are still valid and have been met, and that the results are significant and replicable.
Your project is unique
We understand that you're facing a unique set of challenges and circumstances, and that the project you're managing can't be easily schematized. That's why we tailor each of our service offerings to your specific needs. Whatever combination of services your technical specifications require; we'll build a team capable of providing it. As a member of the BISHE Group, we can in addition count on the expertise of other companies to complement our competences and perfectly fit your needs.